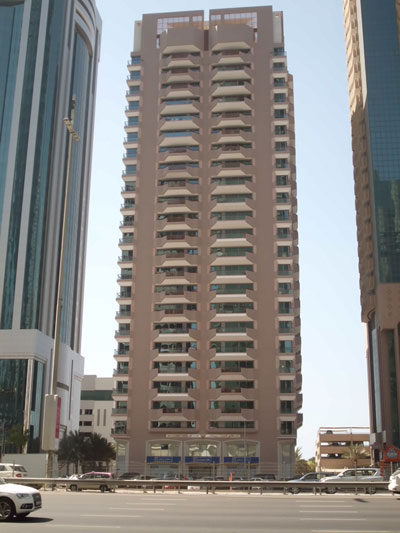 Formerly known as Al Sondos Tower, a majestic and unique appearance makes this building stand out amidst other high-rise buildings on the Sheikh Zayed Road in Dubai. This grand building stands over 22 floors tall and comprises Showrooms on the Ground Floor, Offices on the Mezzanine floor as well as 88 three-bedroom luxury apartments intended for up market Clients.
The style and the manner in which the apartments have been designed and constructed is truly a work of art. Well lit and spacious, each apartment beckons with it's well planned rooms and Sitting area. To date, the occupancy rate has been averaging at 99.9% per annum, which is truly a remarkable feat. Facilities available to the tenant include a temperature controlled Swimming pool, fully equipped Gymnasium, Squash Court as well as Jacuzzi, Steam room and Sauna (separate for men and women). There is also a Children's play area with full crèche facilities.
The tenant also enjoys a covered parking bay, 24-hour security and superior maintenance services.
Building Size
G + M + 22 + Health Club
Delivery Date
November 1998
Type
Residential + Retail (limited)
Unit Types
5,000 sq.ft. Retail Showroom
88 units of 3 Bedroom + Maid Apartments
Status
Sold Out